Nasz Ethos
Naszą wizją jest zrównoważona, przystępna cenowo energia dostępna dla wszystkich – wszędzie.
Kim jesteśmy
Nasi klienci stoją przed olbrzymimi wyzwaniami, jakie niesie ze sobą przyszłość. Dlatego szukają elastycznego i rzetelnego partnera, który będzie wspierać ich w świecie nieustannie zmieniających się oczekiwań.
EthosEnergy zwiększa potencjał, dostarczając usługi i rozwiązania w zakresie maszyn wirnikowych, dzięki którym energia jest zrównoważona, przystępna cenowo i dostępna dla wszystkich.
To wyjątkowe połączenie partnerstwa i jakości usług poparte wieloletnim doświadczeniem w dziedzinie dostosowanych do potrzeb rozwiązań dla sektorów energetycznego, naftowego i gazowego, przemysłowego i lotniczego.
EthosEnergy działa w ponad 100 krajach, stale poprawiając wydajność swoich klientów w całym łańcuchu wartości.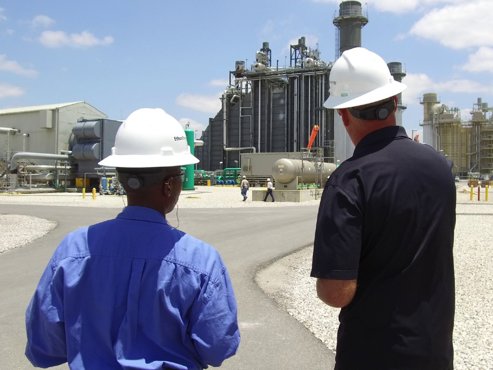 Nasze wartości
Tym, co łączy nas wszystkich w niezwykle zróżnicowanej kulturowo firmie, co wyznaje każdy z nas, są nasze wartości. Nazywamy je "Nasz Ethos".Nasz Ethos to fundament, kamień węgielny, na którym zbudowaliśmy naszą firmę. Określa, kim jesteśmy i co robimy, a każdy z jego pięciu elementów został wybrany i zdefiniowany przez naszych pracowników. Wartościami określonymi przez Nasz Ethos kierujemy się w kontaktach między sobą, z naszymi klientami oraz ze społecznościami, z którymi współpracujemy. To one tworzą naszą wspólną kulturę jedności.
Bezpieczeństwo
Tworzymy kulturę, w której każdy pracownik jest chroniony i świadomy warunków, w jakich pracuje. Każdemu pracownikowi dostarczamy wiedzę i zapewniamy narzędzia oraz szkolenia pozwalające mu rozpoznawać zagrożenia i zapobiegać wypadkom.
Jakość
Spełniamy lub nawet wykraczamy poza oczekiwania naszych klientów wewnętrznych i zewnętrznych, stosując systematyczne podejście do realizacji zobowiązań złożonych przez EthosEnergy. Wyznajemy kulturę innowacji i ciągłego doskonalenia, dzięki czemu zapewniamy naszym klientom wysoki poziom satysfakcji, zrównoważony rozwój i długoterminowy wzrost.
Ludzie
Tworzymy zespół zjednoczony poczuciem przynależności. Wspólne przekonania, wzajemny szacunek i poczucie bycia docenianym pozwalają nam zachować najwyższy poziom wydajności i osiągnąć sukces.
Odpowiedzialność finansowa
Produktywnie zarządzamy zasobami i ryzykiem, działając w najlepszym interesie firmy i klientów. Zapewniamy korzyści naszym interesariuszom, efektywnie zarządzając przepływami pieniężnymi i kosztami przy jednoczesnym uczciwym wynagradzaniu naszych pracowników. Pomagają nam w tym podawane terminowo, dokładne i rzetelne informacje finansowe.
Integralność
Uczciwość, silne zasady moralne i właściwe postępowanie to kluczowe elementy Naszego Ethosu. Jako przedstawiciele naszej firmy ponosimy odpowiedzialność za nasze działania i staramy się działać w odpowiedzialny sposób, dlatego staramy się zachować wewnętrzną spójność i nie dopuszczamy jakichkolwiek form korupcji.
"Bezpieczeństwo powinno być podstawą dla każdego z nas. Powinniśmy dbać o siebie nawzajem i współpracować ze sobą, aby każdy z nas mógł bezpiecznie wrócić po pracy do domu i rodziny".  

"Wykonanie dodatkowej pracy, aby klient poczuł się doceniony, nie jest żadnym problemem".

"Nasi klienci oczekują najwyższego poziomu usług i realizacji zadań we właściwy sposób już za pierwszym razem".

"Integralność oznacza, że działamy uczciwie. Bo liczy się nasza reputacja".
Jesteśmy tam, gdzie Ty
Jako firma globalna posiadamy oddziały w wielu krajach na całym świecie, od Tajlandii, poprzez Abu Dhabi i Polskę, po USA.
Poznaj nasze lokalizacje