Helping to safeguard Poland's electric power system
Designing, manufacturing, delivering and installing high-voltage autotransformers
Goals

Increase reliability
Improve national energy safety

Sectors
Asset

Location

Poland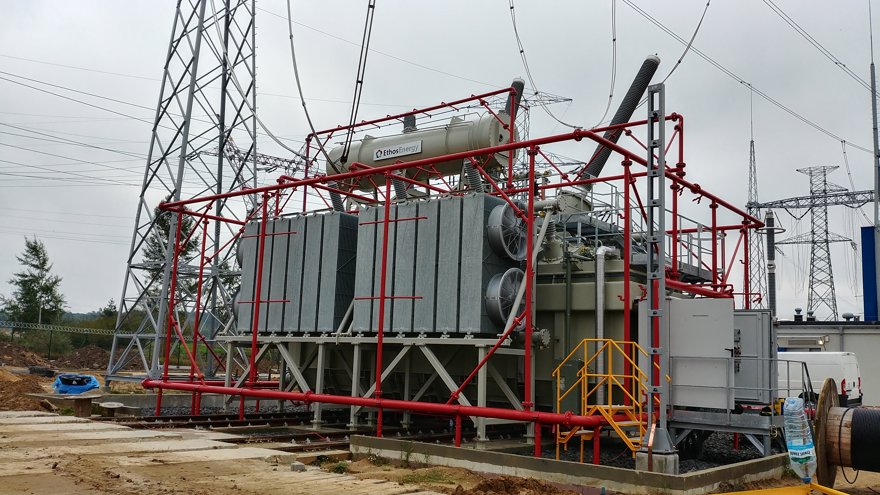 Customer Challenge
High requirements for high-voltage transformers
Homes, schools, hospitals, factories, and businesses. They all rely on a steady supply of electricity, on a daily basis. So companies that are responsible for balancing a country's power system are crucial to the national economy and the lives of everyone.
In Poland, that vital role is played by our customer, who is one of the biggest transmission system operators in Europe. It makes sure electricity is delivered to consumers throughout Poland, all day and all year long.
All electricity generated in the Polish power system is transmitted across 15,700 kilometers of extra-high voltage lines to local grids and, through those, to households and businesses.
So when the customer needed five new 400/110 kV autotransformers with a power of 330 MVA, it wanted to partner with a transformer manufacturing company that could meet its strict testing requirements.
A local partner who could master the significant logistical challenge of delivering transformers weighing individually over 300 metric tons.
And, with the safety of the country's energy at stake, an autotransformer manufacturer that would be able to react to any faults with lightning speed.
Read our solution
Customer Benefits
Between 2016 and 2022, we designed, manufactured, and delivered five autotransformers for Poland's national electric power system.
The final autotransformer is awaiting commissioning. But the first ones, delivered between 2017 and 2018, have been operating faultlessly ever since.
And should any issues ever arise, the customer knows that we can respond and be on site fixing the problem within a matter of hours.
With the success of this project, the customer awarded us another contract to deliver eight 160 MVA/220kV autotransformers.
It also gave us a contract to manufacture two 250 MVA/ 400 kV transformers.
And now, with the references we have gained, we're in an even stronger position to tender for projects involving the highest voltage transformers, both at home and abroad.
The EthosEnergy Solution
Not all transformer manufacturers have the technical capabilities to design, manufacture, deliver, and install transformers of this size – particularly at such an exceptionally high voltage level. One of the advantages of our factory, however, is that it enjoys railway access. And so, being based in Poland, this meant we were perfectly positioned to meet our customers' needs.
Having awarded us the contract, the customer provided detailed technical specifications for the transformer design. The requirements were extensive and we needed to obtain approval for our design from customer's specialists at several stages of the project. Many of customer's substations are in dense residential neighbourhoods – with tens to hundreds of thousands of people living in the surrounding areas. That meant it was particularly important that our transformers could operate at very low noise levels so as not to impact the local environment.
As well as making sure our design complied with the Peak Efficiency Index (PEI) stipulated by the EU's eco-design regulation, we designed the autotransformers with low noise and low load and no-load losses. We also made sure there would be high availability even under long-term overload conditions. Once manufactured, we ran the transformers through extra-rigorous type and product tests at our test station in Lubliniec. From there, we delivered the transformers to customer's expanded and modernized substations to the north and south of Poland.
One of the biggest challenges we faced was delivering a transformer to a substation near one of Poland's largest cities. To achieve this, we transferred it from a rail car to a multi-axle semi-trailer. Then we successfully negotiated the dense and tightly built-up road and streetcar infrastructure.
Our Lubliniec Facility
Click through to read more about our new EthosEnergy service facility in Lubliniec, Poland.