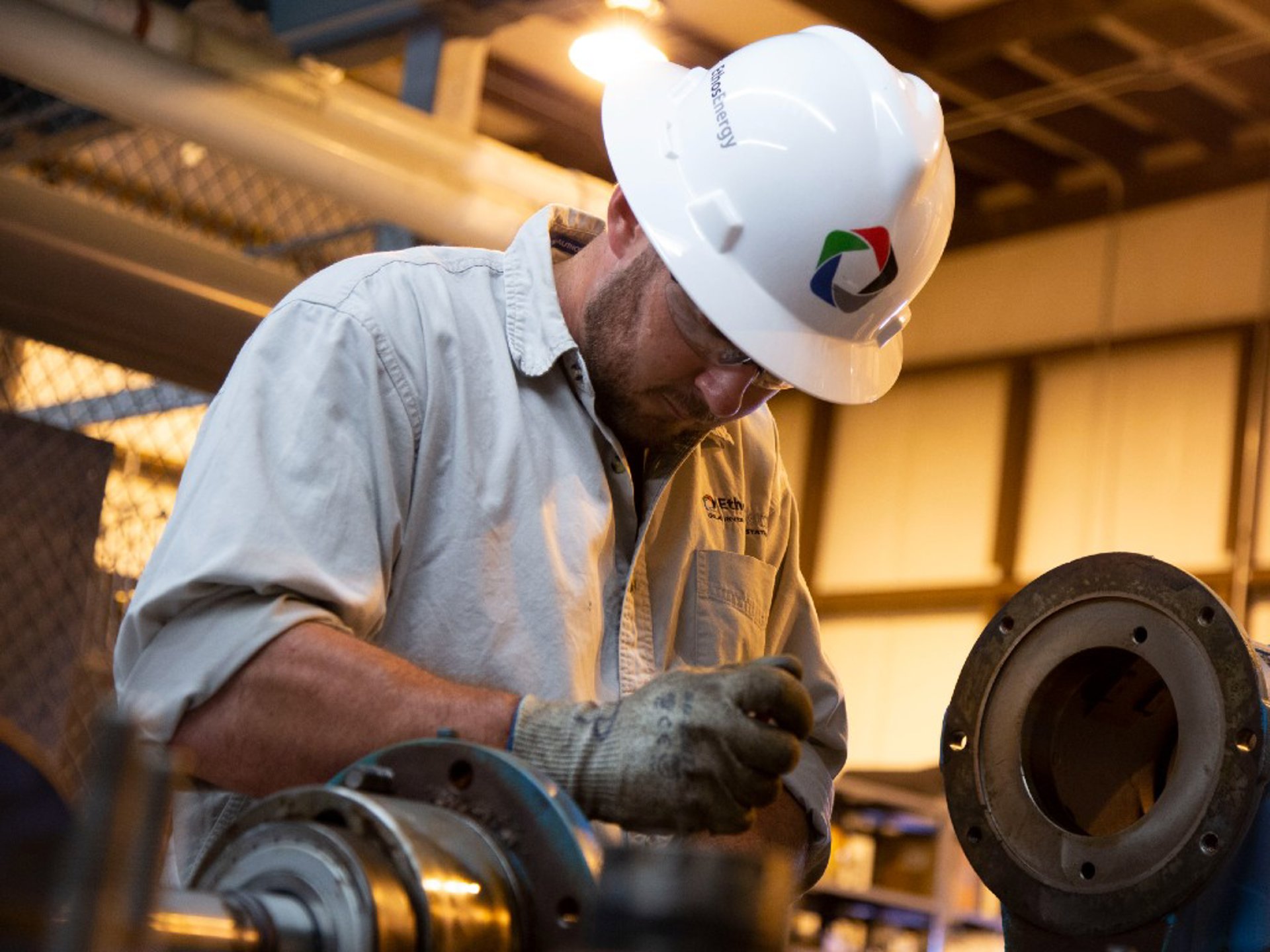 Our comprehensive suite of supporting services is designed to deliver value that fits your individual needs including lower life cycle costs, increased efficiency, extended asset life and enhanced performance.
Steel construction
We produce high-quality steel components up to 280 tons and specialize in multiple types of large steel construction fabrications.
We specialize in various types of machining works for large elements and offer full-scope machining services.
We have a well-equipped machine park, which allows us to offer complex machining services for our customers.
We are available and willing to tailor our services for our customers' needs in relation to the manufacturing and machining of components for power plants and other industries.
Due to our precision machining and the advanced welding process, we guarantee high quality of our performed products.
EthosEnergy manufactures various types of large steel constructions with a weight of up to 280 tons.
We focus on components for generator frames manufactured by Siemens, such as generator stator housings or frame steel structures; frames for nuclear power plant generators, generator bed plates, turbine elements and frames for hydrogen-cooled generators.
Our company, due to high-quality products, has become the qualified supplier of generator parts manufactured by Siemens. We have the SLV certificate, which confirms our qualifications according to ISO standards and ASME standards.
EthosEnergy's diagnostic base is well suited to perform tests for steel components, we conduct destructive and non-destructive tests.
Destructive tests:
Tensile strength test (up to 40 tons)
Bending resistance test (up to 40 tons)
Material hardness test
 
Non-destructive tests:
Visual inspection
Magnetic particle inspection, dry and wet methods
Penetration inspection
Ultrasonic inspection
X-ray radiography
Surface hardness and smoothness tests
Welding integrity tests
Pressure test by means of hydro and air pressure
As one of the largest global independent providers of field services, we have extensive experience servicing pumps, valves, balance of plant (BOP), and pressure equipment. 
With the field service resources of a major OEM, we've built our reputation on responsiveness and innovative solutions that others often miss.
We provide complete outage planning, safety planning, inspection, overhaul services, full-time engineering support, project implementation, parts supply and more. Virtually anything we can do at an EthosEnergy repair facility we can also do on-site, including CNC milling, sub-arc welding and other advanced technologies.
Safety is paramount and is always our number one goal. We also focus on the overall outage schedule, technical performance and cost management to complete your maintenance event on time and within budget.
EthosEnergy uses our more than 25 years of field service experience to support your maintenance planners, outage managers and project engineers in delivering outage services that meet or exceed your expectations.
EthosEnergy's machine shop capabilities are among the most complete and comprehensive in the drilling, refining, and oil well maintenance industries.  
Having manufactured and repaired API 16A components for over 20 years in the United Arab Emirates. Our workshop is well equipped to meet demand with our CNC machines and wide-ranging capability:
• Valves
• BOP
• Chock manifold
• Drilling components
In support of our production capabilities, we offer full manifold reconditioning and repair services. This unique full-service capability guarantees customers to have all of their API 16C services completed in one place through a single company and eliminate an inconvenient need to manage multiple service providers.
Our workshop is also equipped to provide high volume manufacture; with the use of our CNC machines, we can deliver orders quickly to meet your needs. EthosEnergy can additionally monogram these items for standard API designs as required, as well as repair / refurbish API 6A components.
EthosEnergy has the capabilities to carry out shop repairs such as valve repair and API testing, drilling and wellhead equipment repair, X-mas tree repairs and modifications and choke manifold repairs and modifications. 
Our dedicated, experienced inspectors can diagnose the root cause and recommend the relevant course of action in the form of a detailed inspection report.
With a long history of working closely with equipment owners, operators, and original equipment manufacturers (OEM), our repair and overhaul processes are proven in accordance with national and international standards.
Our dedicated managers understand your business and are trained to provide you with a personalized service that anticipates your needs and delivers value to your organization.
EthosEnergy believes that one of our primary strengths is our ability to develop mutually agreeable contract structures and terms.
Our Master Service Agreements are designed to ensure that no time is lost due to the need for a quote and a pre-determined price is agreed for standard work scopes.
We understand that each customer is unique so our contracts are flexible and custom-built to best meet the needs of your business.
EthosEnergy's dedicated quality control team has a wealth of experience when it comes to BOP inspection.
We pride ourselves on Our Ethos of safety, quality, and people so that you can rest assured that our inspection and repair services are thorough so all potential issues with your BOP are addressed. We also pride ourselves on our professional reporting and ability to offer fast and flexible solutions and quick turnaround.
Our extensive experience with regards to the repair and overhaul of BOPs plus our large-spanning capability within our Abu Dhabi workshop means we can complete nearly any repair scope in-house to ensure your BOPs are returned in a timely manner.
Oilfield services
In the Middle East, EthosEnergy provides a range of Oilfield services, including engineering, manufacturing, maintenance, overhaul and repair services.
At EthosEnergy's Middle East Service Centres, comprehensive light and heavy machine capabilities are available to support all repair and manufacturing disciplines.
Material handling
From small installations to multimillion-dollar operations, EthosEnergy Union Field Services conveyor operations provide a suite of material handling solutions to a multitude of industries.
More about Union Field Services
With over 40 years of experience, we have the knowledge to tackle even the most challenging conveyor repair and maintenance tasks in a timely, reliable and cost-efficient manner.
Our material handling solutions are comprehensive, so whether you seek a routine inspection or emergency repair, EthosEnergy Union Field Services has the personnel, equipment and skills necessary to deliver a high-quality service. With a complete fleet of tooled service trucks and 24/7 availability, our dedicated materials handling specialists are always on hand in the event of an emergency.
We offer repair, inspection and maintenance services on the following materials handling system equipment:
• Overhead Self Supporting Bride Crane
• Pallet Accumulation Conveyor
• Overhead Power & Free Conveyor
• Multi-Strand Chain Conveyor
• Unibilt Enclosed Track Conveyor
• Chain Driven Live Roller Conveyor
• Belt Conveyor
• Webb-AlumiTrack
• Fabrication
Whether your needs are for new construction, scheduled maintenance, or emergency repairs, we have the skills and inventory required to offer a wide range of material handling services and solutions to suit your specific needs.
• Los Angeles City Certified Fabricator
• Structural stamping capability
• Permit services
• In-house and external engineering services
• Available 24/7
• Complete fleet of tooled service trucks
• Quality assurance auditing and monitoring
• Industry-leading health safety and environmental training
• Formal in-house and external craft specific training
• Extensive network of companies
• Financial stability