Impeller failure compressors
An LSV ring came loose in a pipeline compressor in Poland.
Goals

Sectors
Asset

Location

Poland, Europe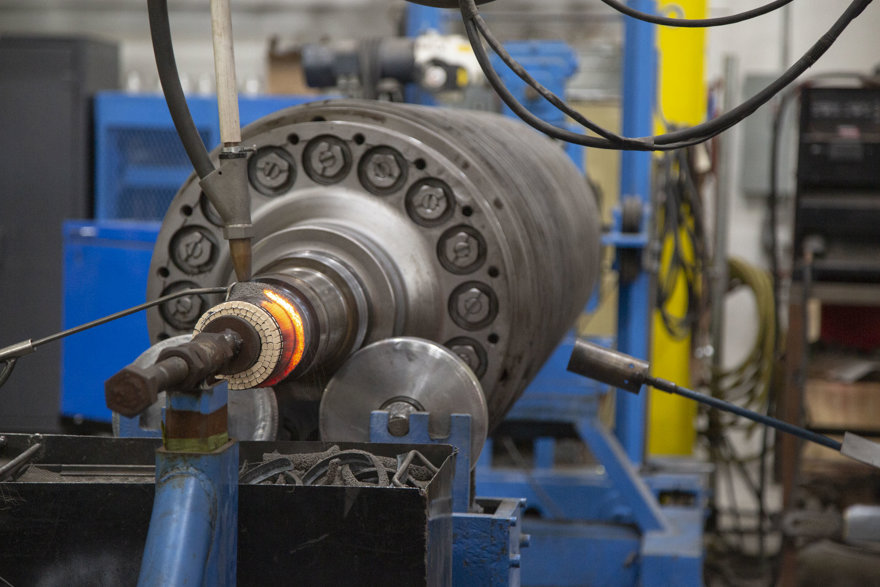 Project Overview
An LSV ring came loose in a pipeline compressor in Poland. This resulted in severe damage to the diaphragm and impeller.
Key Challenges
The locking mechanism of the low solidity vane ring consisted of only two small screws at the diaphragm split line
Aerodynamic torque calculations proved that for this high flow application, running the compressor slightly off-design, resulted in relatively high tangential forces on the stationary vane ring due to an increasing vane incidence angles 
As a result, one of the locking screws was heavily stressed
The EthosEnergy Solution
Since the single locking screw was not strong enough, it broke off and the ring started to rotate slowly in its mounting groove. Due to the rotation, the clearance in the groove increased and the ring became loose and struck the impeller.
The vibration monitoring system generated a trip of the unit. A more robust locking method was suggested and applied to the failed compressor.
The LSV ring was axially bolted into the mounting groove. The bolts were made flush with the diffuser wall in order to not disturb the gas flow or reduce compressor efficiency.
Project Highlights
The key highlights of the project.
LSV ring on a compressor came loose causing damage
A more robust locking method was applied to the compressor
Borescope inspections were completed to prevent more damage & downtime
Key Results
Proper locking methods should be applied, especially for high flow applications
Borescope inspections on similar pipeline compressors revealed that the LSV rings had also rotated in their mounting grooves
Fortunately, due to limited operating hours on the other compressors, this did not result in more failures