Inspiring hydrogen energy stories: Wood's hydrogen technology
Date

October 06, 2022

Category

News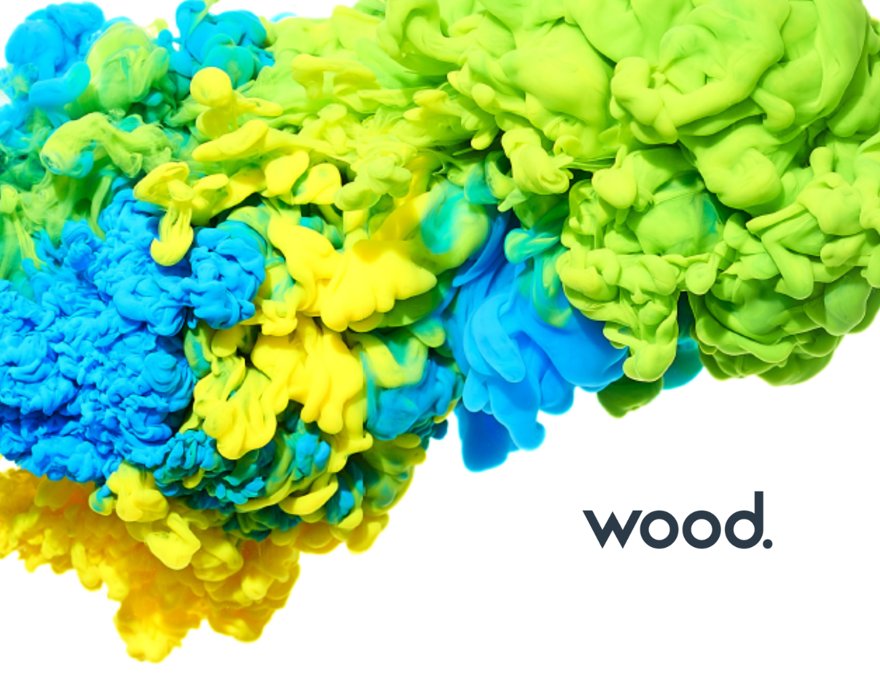 Our Hydrogen Future: How Wood delivers competitive low-carbon intensive hydrogen
"As the energy industry spotlight increasingly focuses on hydrogen, it is more crucial than ever that we forge strong partnerships to allow us to meet ambitious and essential targets.
It has been inspiring to hear the progress our partners on this journey have made in the past year. The steps we have taken collectively are taking us closer to achieving net zero and we want to continue to build this community and work together in supporting each other to meet a shared goal."
The words of Fabrizio Fabbri, Executive Vice President of EthosEnergy, following the second Our Hydrogen Future event hosted by EthosEnergy in June.
Among the inspiring hydrogen energy stories, during the annual roundtable event we heard the presentation given by Fabio Ruggeri, Manager of Process, Technologies, at Wood in Milan.
This blog post is a snapshot of Fabio's talk. Discover how you can play your part in the energy transition by joining us on an exciting hydrogen journey.
But first, what does Wood's track record look like?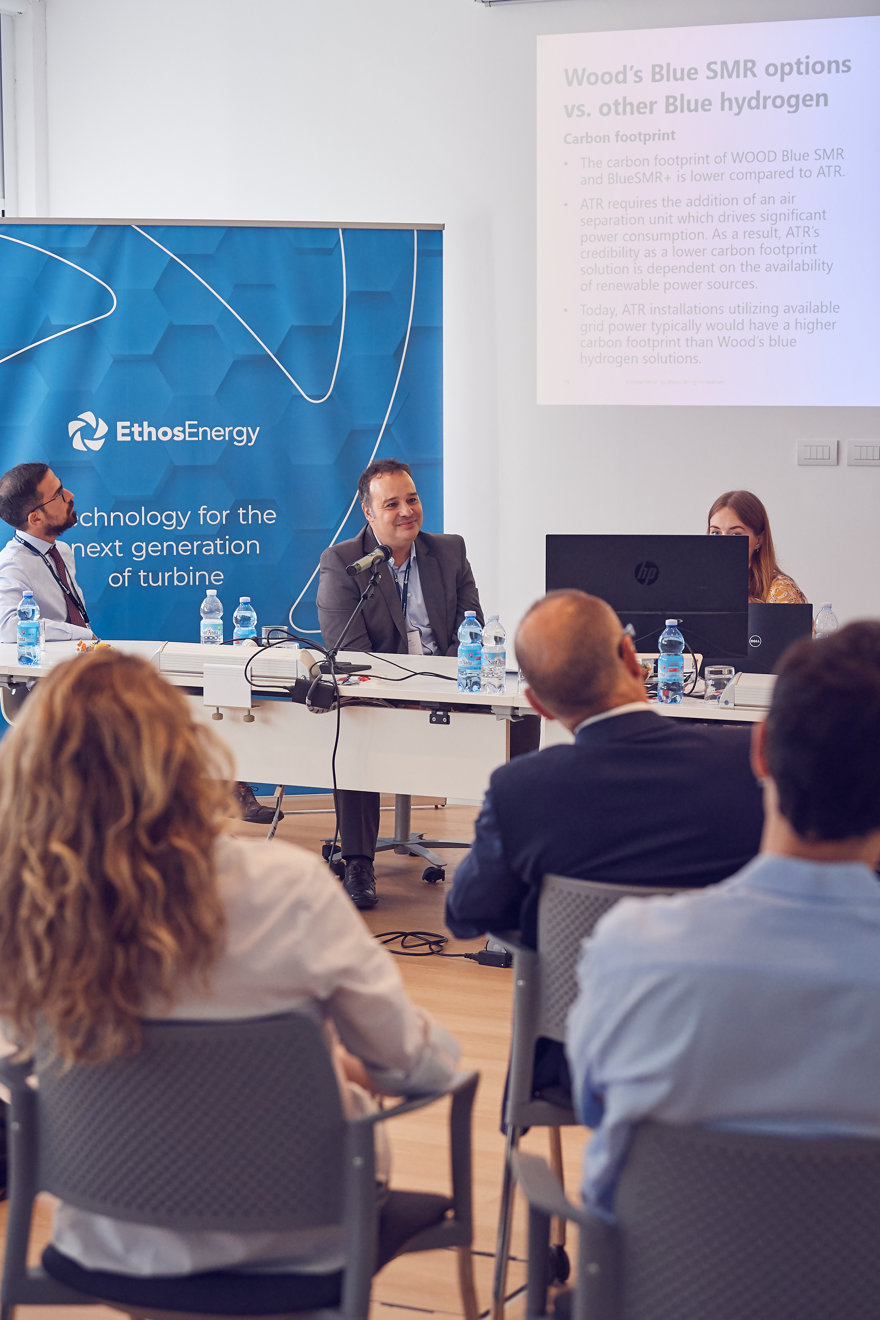 A global expert in the supply of hydrogen technology
Since the 1960s, Wood has been recognized worldwide as a licensor of hydrogen technology and supplier of steam reformer heaters. It pioneered the high-pressure steam methane reformer design and has designed and built over 120 hydrogen plants.
Wood has enjoyed success in modular supply and its deep company experience in fired heaters saw it develop a specific design for steam reformer heaters known as the Terrace Wall. This optimizes fuel and steam production, and its unique characteristics provides a number of advantages in performance, flexibility and reliability of hydrogen production.
Wood has supplied over 220 Terrace Wall steam reforming furnaces around the globe and its hydrogen plants enjoy a wide production capacity range – from 3,000 to 300,000 Nm3/h in a single train unit.
More recently, Wood has developed a gas-heated reformer (GHR) for small-scale units (those up to 3,000 Nm3/h).
An overview of the blue hydrogen space
Blue hydrogen technology enables you to produce hydrogen via natural gas or other hydrogen feedstock while capturing the carbon dioxide by-product.
Fabio talked us through three different types of blue hydrogen technology:
1. Steam methane reforming (SMR)
This is the most common technology on the market today. With heat supplied by combustion of a fuel gas source, it uses feedstock and steam reaction. It requires a catalyst but doesn't need an air separation unit (ASU).
2. Autothermal reforming (ATR)
This is considered one of the most suitable pathways for low-carbon hydrogen production. It involves feedstock and an oxygen reaction (partial combustion), with oxygen as the primary oxidizing medium. Again, a catalyst is required, but unlike steam methane reforming an ASU is also required.
3. Partial oxidation (POX)
This involves gasifying liquid feedstock at a very high temperature through an exothermic process. It needs an ASU but not a catalyst.
Achieving higher CO2 recovery
Wood has developed a couple of blue hydrogen technologies:
● Blue SMR, which is fully commercially available and is more flexible in terms of steam production; and
● Blue SMR+, which is even more efficient and results in lower CO2 emissions. It has an integrated GHR that Wood developed in-house.
Both solutions use an integrated pre-combustion carbon capture and storage (CCS) system. This has the edge over a post-combustion scheme because the latter is capital and energy intensive and degrades the amine solution faster.
How much CO2 can Wood's blue hydrogen technologies capture? The results are impressive. Wood's solutions can reduce CO2 emissions by up to 95%.
But how does the performance of Wood's two solutions compare to other blue hydrogen technologies?
Wood's options vs other blue hydrogen technologies
Fabio talked us through the results of two studies – one for a typical 100,000 Nm3/h hydrogen production unit and the other for a typical 300,000 Nm3/h unit.
The studies looked at how Wood's Blue SMR options perform compared with POX, standard ATR, and ATR with integrated GHR (advanced ATR).
Comparison factors included:
● Carbon capture rates
● CAPEX
● OPEX
● Power consumption
● Carbon footprint (net CO2 emissions, including utilities generation)
● The levelized cost of hydrogen
Both of Wood's solutions compared favorably, with the Blue SMR+ outperforming all other blue hydrogen technologies on every measure.
Lower costs and carbon footprint
As we saw earlier, ATR requires an ASU. This leads to significant power consumption. So ATR's credibility as a lower carbon footprint solution is dependent on the availability of renewable power sources.
ATR installations using available grid power would typically have a higher carbon footprint than Wood's blue hydrogen solutions.
What's more, the absence of an ASU in Wood's solutions means the total project cost is considerably lower – as much as 36% lower than ATR.
Significant steps forward
Wood is making significant steps forward within the hydrogen development space for power-generating assets. Its blue hydrogen technologies offer a number of advantages:
1. A simplified plant scheme
2. Advanced integration of a pre-combustion CCS system
3. Increased energy efficiency by minimizing fuel gas consumption and steam production
4. Decreased CO2 emissions
5. Increased capacity to reduce environmental impact through potentially being applied to unit revamps
6. Lower power consumption compared to ATR, reducing OPEX as well as carbon footprint
An alternative pathway
Fabio also shared with us news of another exciting pathway being developed by Wood – its biohydrogen scheme.
This is also based on steam reforming and is Wood's response to the need for hydrogen from renewable sources. It creates clean hydrogen from biofeedstock.
Wood's bioH2 is carbon-neutral and can compete with water electrolysis. A lab-scale testing campaign has been successfully completed and Wood is currently waiting for feedback on its patent application.
This year, Wood is looking for a small-scale industrial application, by itself or in partnership.
The progress Wood is making with its blue hydrogen and biohydrogen technologies was just one of many inspirational stories shared at this year's Our Hydrogen Future event by hydrogen companies.
But, as Fabrizio Fabbri said, if we are going to succeed with the energy transition and reach those ambitious and necessary net zero targets, we need talented minds from industry, local government, and academia to work together and support each other.
Interested in learning more about our hydrogen journey? Leave your details and we will be in touch with more information.