Houston - Service Shop
Our EthosEnergy Houston Service Shop specializes in maintenance, repair, and overhaul of steam turbines, centrifugal compressors, and heavy industrial gas turbines.
Location

Houston, TX, USA

Services

Compressors
Gas turbines
Maintenance
Manufacturing & Fabrication
Repair & Overhaul
Steam turbines
Upgrades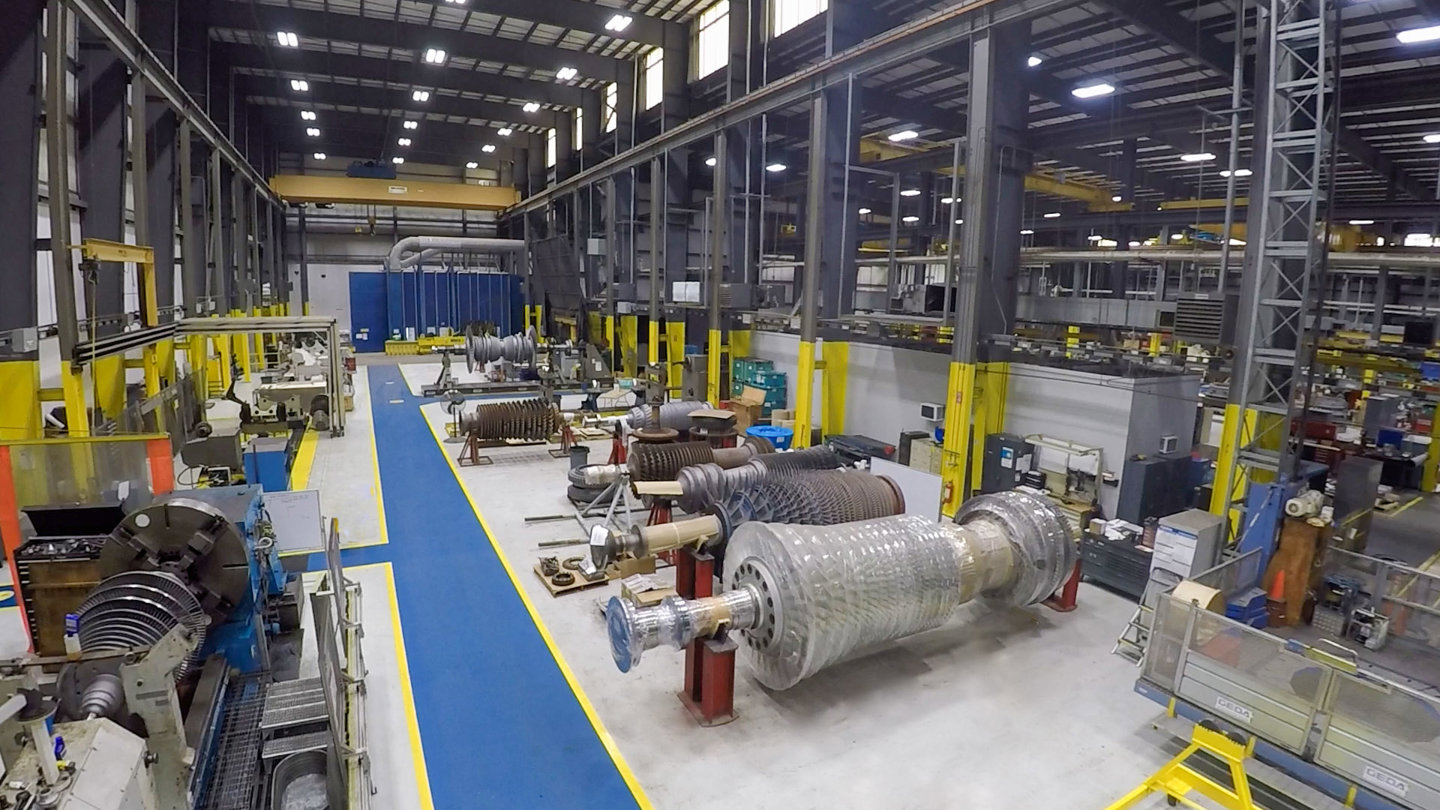 Our Capabilities
Our 140,000 sq. ft. Houston Service Shop offers a wide range of specialties including steam turbine unit overhauls and component repairs, rotor welding, steam turbine rotor manufacturing, low and high-speed rotor balancing, centrifugal compressor overhauls, gas turbine rotor overhauls, and rotating and stationary component repair. 
Speak to one of our experts
Advanced technologies for turbine repairs
Proactive outage planning
OEM level process controls
Shop and onsite component repairs
Engineered solutions for rotor repair instead of replacement 
Full-service engineering
140,000 square feet of manufacturing capacity
Six bays in the production area, one bay 60 ft high
Each bay has a bridge crane ranging from 10 to 100 ton
Climate controlled rotor storage facility (5,700 sq. ft.), vertical hanging
Operational speed balance bunker
Large grit blast booth
Steam turbine rotors
Steam turbine component repairs
Steam turbine stationaries and cases
Centrifugal compressors
Gas turbine rotor overhauls (GE Heavy-Duty Gas Turbines and Westinghouse)
Gas turbine compressor diaphragms (Westinghouse)
On-site capabilities including rotating and stationary components, seals, and casing
WATCH: Our Houston Shop
Step inside our facility to see our advanced people, tooling, and machinery in action! 
Steam Turbine Repair Services
Over 5,000 rotor weld repairs
Over 100 rotors straightened through proprietary process
Over 5,000 rotating element repairs
Over 1,000 steam turbine wheel replacements 
Explore our steam turbine services
Gas Turbine Services
Gas turbine rotor major inspections and overhauls
OEM for Fiat and Mature Westinghouse Gas Turbines
Parts manufacturing and component repair capabilities through our network of EthosEnergy facilities for GE heavy-duty gas turbines
Inventory of new and certified used serviceable parts 
Explore our gas turbine services
Centrifugal and Axial Compressors
Rotor inspection, repairs, advanced welding
Diaphragm and stationary parts repair
Low and high-speed balancing
Reverse engineering of parts 
Field inspection, minor and major overhauls 
Re-rates
Troubleshooting and engineering support 
Explore our compressor services
OpSpeed™ Balance
Our operating speed balance bunker improves the reliability of rotating equipment by eliminating the residual imbalance in the rotor, diagnosing existing instabilities of the rotor/bearing system, evaluating the margin of safety, and
improving the rotor's dynamic behavior.
Over 5000 rotors anaylzed
Maximum rotor weight: 50,000 lbs
Maximum rotor length: 316 in
Maximum rotor balancing/overspeed: 34,000 rpm 
Ready to unlock your rotating equipment potential?
Speak to one of our experts to learn more about our custom solutions tailored to meet your operational goals
Fields marked with an asterisk (*) are required