Rayong
EthosEnergy in Rayong, Thailand specializes in rejuvenation, repair and life extension of industrial gas turbine components. With world-class engineering and manufacturing services at the highest level we provide our customers with the most cost effective solutions that will extend equipment life cycle capability while increasing availability and reliability.
Location

Rayong, Thailand

Services

Gas turbines
Accessories & Components
Repair & Overhaul
Upgrades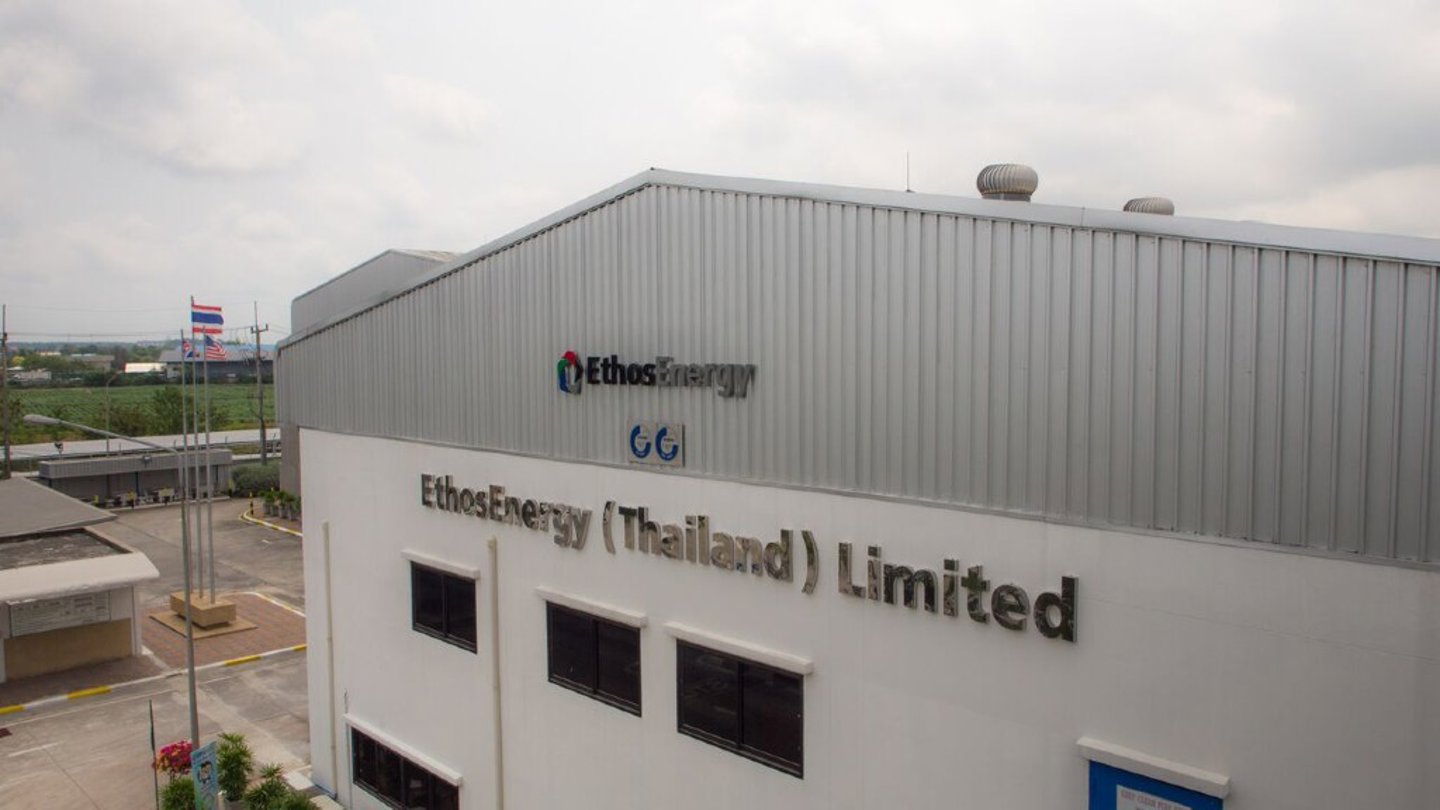 Our Capabilities
EthosEnergy Thailand has complete on-site engineering staff dedicated to developing solutions for our customers no matter how big or small the issue may be. It is our intention to ensure our customers can maintain and continue operation of all their capital components for as long as possible without risk ensuring and maximize the return on investment.
EthosEnergy Thailand utilizes the high level of system and quality controls within the facility and all of our systems.
All inspection, NDT and welders are qualified and certified to aerospace standards. All gauges and tooling are calibrated and traceable to NIST standard.
For all combustion and hot gas path components:
Chemical stripping
Heat treatment
Hydrogen fluoride cleaning
Advanced welding
Thermal spray (APS & HVOF) and slurry applied coating applications
Diffused coating systems
Moment weight balancing
Pulse thermography machining processes
Fluorescent penetrant inspections
CMM inspection
Grit blasting (large capacity walk in)
Ceramic peening, shot peening and glass bead processes
Mass air flow inspection and liquid flow inspections
Eddy current and ultrasonic inspections
Dedicated order management representatives for each customer
Online virtual customer service center which gives our customers direct status visibility of orders anytime, any day and allows direct communication between you and your customer representative
Engineering specialists for each component type
Shop floor employees with an average of 14 years repair experience
Repair lead times averaging 7 weeks with flexibility for further expedited work if required
Product engineering and manufacturing of subassembly components
Full repair development engineering team
EthosEnergy full warranty
WATCH: Our Rayong Facility
A video showcase of our state-of-the-art facility in Thailand 
Why use EthosEnergy Rayong?
EthosEnergy has an office in Bangkok and a workshop in Rayong.
On-site logistics professionals
Extensive experience in handling freight in and out of many countries and regions globally
Available 24 hours a day
Easily accessed by the sea port and the international airport
Works under special privileges from the Thailand Board of Investment giving us expedited delivery in and out of customs with an average of 1 to 2 days maximum