ECOMAX® a finalist for the Gulf Energy Excellence Awards
Date

September 07, 2023

Category

Views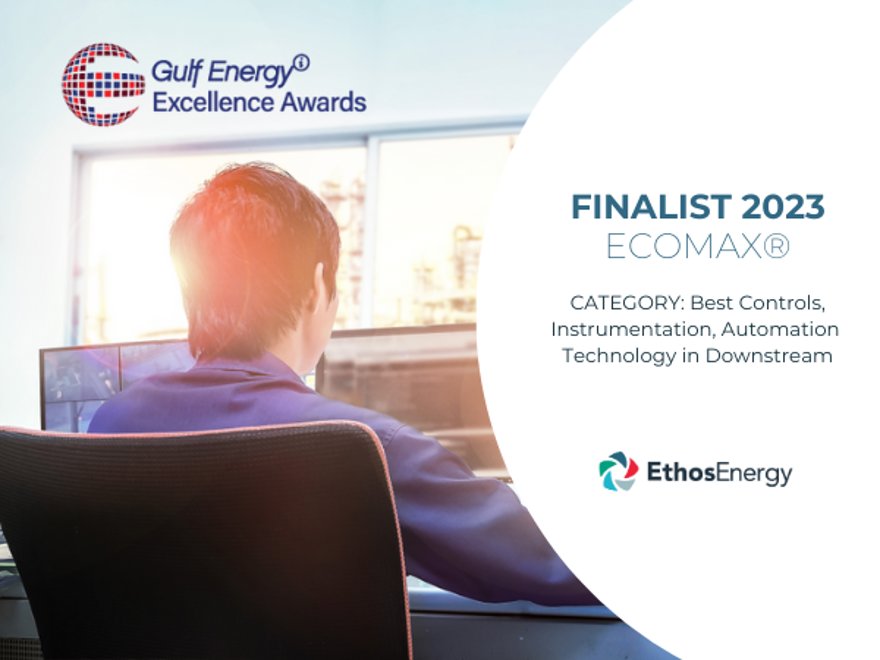 EthosEnergy's Asset Optimization Platform receives nomination for Best Controls, Instrumentation, Automation Technology in the Downstream category
EthosEnergy's ECOMAX® Asset Optimization Platform is a finalist for the Gulf Energy Excellence Awards for Best Controls, Instrumentation, Automation Technology in the Downstream category. 

Gulf Energy Information, the world's largest independent media company serving the energy industry, has announced the inaugural awards to recognize and celebrate cutting-edge technological developments and exceptional leadership in the industry.

This event combines award programs from four highly respected industry media outlets: World Oil, Hydrocarbon Processing, Pipeline & Gas Journal and Petroleum Economist.

The ECOMAX® Asset Optimization Platform provides an automated, fully customizable solution to achieve customer-determined operational goals as it relates to optimizing the performance, efficiency, and compliance of gas turbines.

ECOMAX® for Downstream applications

Downstream refineries and petrochemical plants strategically utilize adjacent cogeneration power facilities to enhance their operational efficiency and sustainability. Cogeneration, also known as combined heat and power (CHP), allows these refineries to simultaneously produce electricity and thermal energy. The electricity generated is used to power various refinery machinery and electrical systems, reducing their reliance on external grid power and minimizing energy costs. Meanwhile, the heat produced during electricity generation is harnessed to meet the refinery's thermal energy demands, such as steam production for process heating or space heating.
Gas turbines serve as the primary engines for electricity generation for these facilities. They are typically tuned manually twice a year for the upcoming season's ambient conditions; however, since changes in weather, fuel quality, and equipment vary greatly, the tuning has to account for significant variations in these conditions and is not fully optimized. This often sacrifices available power output. Such manual tuning relies on a third party, can be costly, and also does not maximize the potential performance of the unit due to having to safeguard against greenhouse gas emissions limits.
ECOMAX® gives operators real-time auto-tuning and control of key parameters of the gas turbine operation via digital controls. This allows the plant to maximize the megawatt (MW) output while maintaining nitrogen oxide (NOx) and carbon dioxide (CO2) limits for emissions compliance. Cogeneration facilities can more efficiently and cost-effectively power their operation due to the optimized performance of the units. 
EthosEnergy has installed ECOMAX® at over 50 power generation sites globally, providing auto-tuning for over 110 gas turbines in applications such as power plants, industrial cogeneration facilities supporting downstream facilities, chemical processing facilities, and other industrial applications.

Key benefits of Ecomax include:
• Maximized power output
• Improved plant heat rate
• Real-time greenhouse gas emissions compliance
• Combustion system stability and maintenance improvement
• Increased turndown to avoid shutdown
• Automatically adjust to plant ambient environmental changes
• No control system upgrade or mechanical changes required
• 100% operator controls
About the Event: Gulf Energy Excellence Awards

The awards ceremony will take place at the Post Oak Hotel in Houston, Texas on October 11, 2023. For more information on the awards, please visit e2awards.com
ECOMAX® Case Study
Learn how our petrochemical client produced over 70,000 MW per year across four gas turbines and reduced carbon emissions by over 27,000 tons CO2 per year