EthosEnergy steam turbine blade services: Repair, don't replace
Date

June 28, 2023

Category

Impact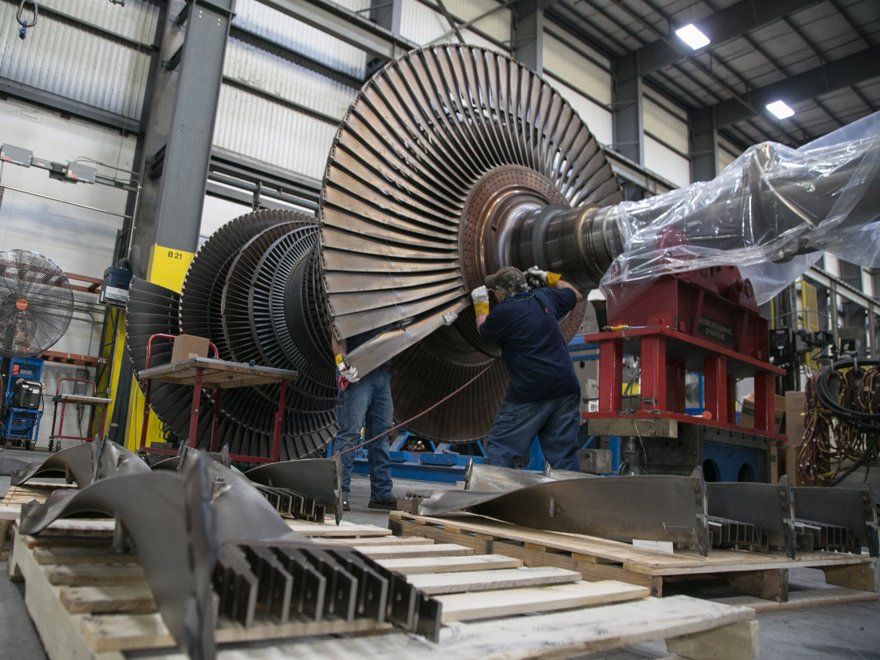 Extending the operational life of steam turbine blades: The latest innovations in design and repair
Steam turbines are a critical piece of equipment in power generation, and their reliable operation is crucial for the sustainability of the energy industry. 
But these turbines are exposed to several damaged mechanisms and modes of failure such as erosion and stress corrosion cracking. This is due to the harsh operating conditions found in the low-pressure section, which will often result in the forced replacement of certain components before they fail in service. 
However, steam turbine independent service provider companies such as EthosEnergy are using innovative and proven techniques to extend the life span of steam turbine parts and optimize maintenance and inspection regimes. Allowing asset owners to avoid the costly premature replacement of certain components such as last stage blades and start repairing them instead. 
The importance of steam turbine blade design
Steam turbine blade design is fundamental to not only the performance, safety, and cost of the turbine, but also the operational life of the blades. However, the latter is typically second to the preceding points. 
Modern steam turbine original equipment manufacturers do use a variety of design techniques in an attempt to reduce the rate of erosion, and are often required to provide a guarantee on the percentage of blade aerofoil erosion within a set of boundary conditions. 
By further exploring and developing these design techniques, combining new and proven processes with both steam turbine independent service providers and original equipment, manufacturers have been able to develop different improvements to the last stage blade design to reduce the erosion rate and increase operational life. 
These improvements vary from applying surface engineering in the form of coatings or local hardness, to mechanically attaching erosion shields to blades. All of which have been proven to offer limited protection.
Advanced steam turbine blade repair solutions
Typically, even asset owners with a modern best-in-class steam turbine have just one option when their turbine blades require replacement due to erosion – buying new blades and replacing the affected row. This is a costly process that happens regularly, with the average time between each replacement being around five to ten years. 
There are also factors relating to the operational regime of the turbine that can exacerbate the effect of this. It is becoming common that turbines originally designed for base load operation are frequently operating at part load, which often increases the erosion rate of the last stage blades, requiring more frequent inspections and ultimately, earlier than expected replacement. 
This erosion of last stage blades is nothing new to the industry and it is often seen as a consequence of owning and operating a steam turbine. Fortunately, EthosEnergy has been providing a solution to this for over forty years which far surpasses other improvements developed. 
EthosEnergy's blade repair solutions were specifically designed to allow last stage blades to operate in harsh, corrosive conditions for a much longer period whilst remaining safe. This ultimately reduces the frequency of inspections and replacement, thereby reducing the maintenance costs. 
Our enhanced blade weld repair process is a cost-effective solution that can be applied to free-standing and packet blades. With a typical last-stage blade row containing on average seventy-five blades, these can be fully repaired in six to eight weeks when sent to our center of excellence in the UK. 
For those blade rows that can't be removed easily from the rotor, it can be possible to carry out an in-situ repair either on site or in our facility. 
By utilizing our innovative repair techniques, asset owners and operators will be able to drastically reduce the frequency of blade inspections and costly replacements and instead, rely on repairs to their existing blades. Saving operators both time and money.
Greener steam turbine operations
As we see a growing need for sustainable solutions, the energy industry must do its part to contribute.
One step that can be taken is embracing equipment repair and refurbishment. Repairing steam turbine blades rather than replacing them significantly reduces your carbon footprint, helping to promote sustainability.
Besides benefiting the environment, blade repair extends maintenance intervals and reduces your overall costs. In fact, customers who chose to repair their blades experienced greatly extended life of the last stage blades when compared to original design and other erosion protection methods.
Leading to less downtime, lower maintenance costs, and increased equipment availability. 
EthosEnergy's repair services are on average 40-50% more cost-effective than replacement and have a considerably shorter lead time, with a new set of blades lead time consisting of around ten months. 
By opting for greener steam turbine operations, asset owners and operators can make a positive impact on the environment while simultaneously improving operational availability and cost savings.
EthosEnergy leading the way at industry events
We recently presented our advanced steam turbine blade repair solutions at industry events across Europe. 
As EthosEnergy's Technical Operations Manager, I ran a presentation on "Steam Turbine Blade Corrosion and Erosion Protection", where I detailed how our repair and upgrade process extends the life of steam turbine blades. 
Specifically, I explained how our innovative techniques can significantly reduce erosion rate and extend the periods between outages. Providing our customers with a cost-effective and sustainable solution that they can rely on.
EthosEnergy: Optimizing efficiency and sustainability in steam turbine operations
EthosEnergy is at the forefront of the steam turbine repair industry. 
Our enhanced blade weld repair process is a cost-effective and sustainable solution for operators. It allows for a significant reduction in both maintenance costs and extending the operational life of last stage steam turbine blades. 
By presenting our innovative solutions at industry events, we are showcasing our commitment to providing the best possible service to our clients and ensuring the sustainable operation of energy generation facilities for years to come.