First Frame 6B Phoenix Rotors™ still going strong
Global leader gives the go-ahead for our end-of-life rotor solutions
Goals

Sectors
Asset

Location

California, United States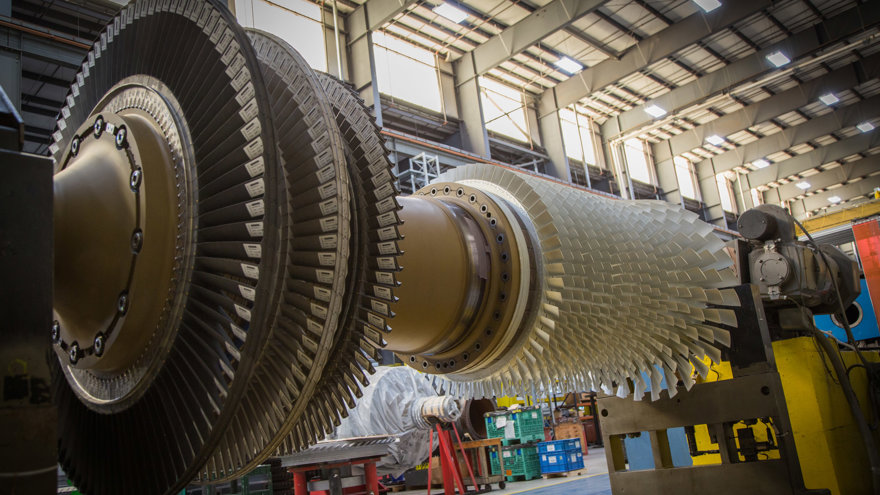 Decisions, decisions, decisions...
Slow but steady wins the race
Not all decisions are created equal. Some you can, and should, make fast. These are the ones you can easily undo. Where decisiveness trumps certainty.

But then there are those decisions that are either hard to reverse or have a lot riding on them. This type of decision you want to make carefully. Methodically. Meticulously. Taking your time so you make the best choice for your business, now and in the future.

That's precisely the approach that our client, a global leader in fuel refining and the owner and operator of a large industrial facility on the Pacific Coast, took a few years ago when faced with a critical decision: how to replace end-of-life rotors for two GE Frame 6B gas turbines.

This decision-making process would see our client embark on a rigorous process of evaluation, putting our Phoenix Rotor™ solution squarely under the microscope. We were more than happy to oblige, knowing that our engineering processes, component analysis, and methodologies would withstand the test. 
The Challenge 
In search of cost-effective rotor replacement
Heavy-duty gas turbine rotors, such as the GE Frame 6B, have a finite lifetime. That's because back in 2007 the OEM issued a technical letter, TIL-1576 (subsequently updated in 2011), that cites the risk of catastrophic failure and serious injury to nearby personnel if units are operated beyond either 200,000 factored fired hours (FFH) or 5,000 factored fired starts (FFS). The TIL makes it clear that detailed engineering knowledge is necessary to provide any type of life extension.

The cogeneration facility that powers our client's refinery had been continuously operating two Frame 6B gas turbines since 1995. By 2018, both units had run for over 180,000 FFH. They were on course to reach the watershed of 200,000 FFH within a couple of years. 

Sensibly, our client's team began scouring the market for solutions. They explored replacement rotors offered by the OEM and other independent service providers. And they considered an innovative solution we had recently brought to the market: the Phoenix RotorTM. 
The Solution
The best of both worlds
Originally developed for Frame 7EA, the Phoenix Rotor is a hybrid product that gives gas turbine operators the best of both worlds: the maximum possible life without the high cost of purchasing a brand-new unit from the OEM. 

Cost savings come from the design of combining a mixture of new and CPO™ (certified previously operated) rotor components (such as compressor wheels, turbine wheels, spacers, bolting, and blades). We achieve maximum life by adding new parts, where necessary, to replace the life-limiting parts to certify the rotor for 200,000 FFH.

What we could also offer the facility was an exchange/fleet program, enabling our client to minimize capital expenditure and monetize the rotors it was replacing. This drives down the cost to the customer even further, creating the next outage's Phoenix Rotor from their used rotor plus our new parts.

But even though we had been partnering with the site since 2015 under an LTSA (long-term service agreement), we still had to go through a stringent qualification process.
The Evaluation
Due diligence leads to global confidence
Over an 18-month period, the client's technical team scrutinized our rotor solutions and engineering capabilities. Several members of our team traveled from the US to the Netherlands for a technical review. Together, both teams analyzed in detail our rotor reverse-engineering process and our component analysis and rotor lifetime assessment methodologies. 

It helped that our client's Eastern Hemisphere team already had extensive experience of working with our OEM gas turbine manufacturing and repair facility in Torino, Italy. There, we had successfully undertaken a lifetime assessment of the client's Frame 6B rotors. And now our client's representative was able to see how we manufacture new Frame 6B rotor components and carry out rotor life extension and overhaul activities.

With the technical evaluation and numerous facility audits completed, our client approved procurement of our rotor solution by its individual site teams, worldwide. And in the spring of 2019, the refinery cogeneration facility in California placed an order for our Phoenix Rotor.
The Delivery
One step ahead of schedule 
The facility didn't have a spare rotor and didn't want to have to take an extended outage. But they wanted a completed Phoenix Rotor to be delivered to the site ahead of the upcoming outage for each unit. So, to meet the client's schedule, it was agreed that we would procure a seed rotor to build the Phoenix Rotor in ample time for the outage. 

Our Torino facility manufactured the life-limiting components and shipped them to our Houston facility, where we built the Frame 6B Phoenix Rotors. Our client's representative was able to visit the facility to view the Phoenix Rotors during the build process. 

The first Phoenix Rotor was completed and shipped to the site by the end of 2019, ready for the upcoming outage. 
The Impact
Rotor exchange program running smoothly 
We installed the first Phoenix Rotor in March 2020. Since then, it has been operating without any issues. 
We put the removed rotor to good use. This became the seed for building the second Phoenix Rotor, which we successfully installed in the sister unit during an outage in January 2021. Again, that rotor has been running without any issues.

The first Phoenix Rotor underwent a hot gas path inspection during a planned outage in April 2023. At that point, it had successfully operated for 24,000 FFH. As can be seen from the photograph, everything was found to be in pristine condition and the rotor was returned to service.  

As of 2023, the two Phoenix Rotors, between them, have successfully accumulated and operated for more than 32,000 FFH. And the facility has renewed its LTSA with us – opening the door to ever-closer partnership and specialist gas turbine support.
Summary - Key Points
Our engineering capabilities pass a rigorous evaluation with flying colors
First Frame 6B Phoenix Rotor successfully operates for over 24,000 FFH without any issues
Exchange/fleet program helps cogeneration facility avoid extended outages