PoliTO and EthosEnergy: Partners on an exciting hydrogen journey
Date

November 16, 2022

Category

News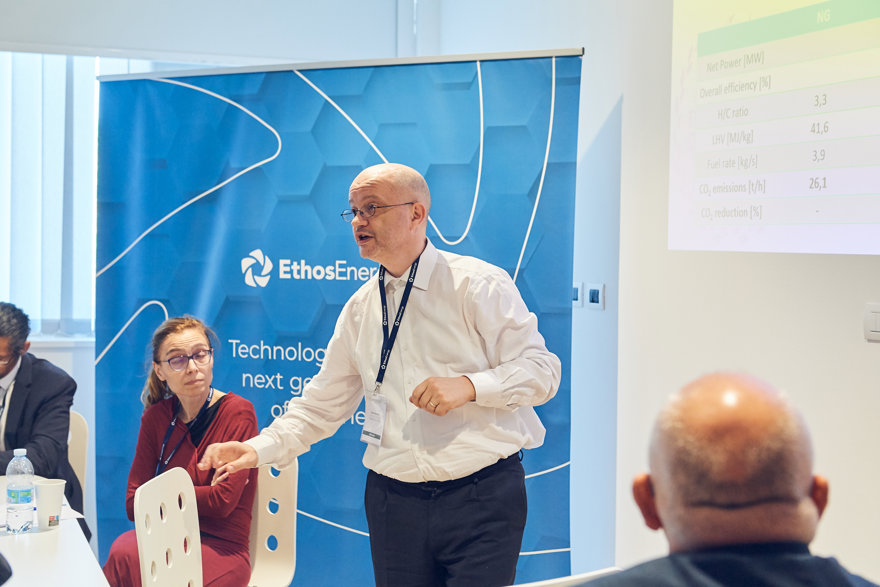 PoliTO and EthosEnergy: Partners on an exciting hydrogen journey
At EthosEnergy, we want to work with our customers to reduce their emissions and help them extend the life of their equipment. As new technologies like hydrogen come in, we want to be able to offer them fuel flexibility.
That's why we are very excited about the work being done by our research partner, the Energy Department of the Politecnico di Torino (PoliTO). And why we were delighted to be joined by Professor Mirko Baratta at this year's Our Hydrogen Future roundtable.
Mirko shared with us the work his department's research group has been doing on diffuse-flame burners for hydrogen-compliant applications.
In what follows, you can read a quick snapshot of Mirko's talk.
An introduction to PoliTO's research group
PoliTO's Energy Department is highly committed to the transition toward net-zero emissions energy systems.
The other members of its research group are Professor Daniela Anna Misul and Professor Simone Salvadori.
They have projects in:
● Turbomachines aerodynamics
● Combustion (natural gas/hydrogen/bioliquids)
● Combustor-turbine interaction
● Advanced combustion concepts, such as pressure gain combustion (PGC)
PoliTO's hydrogen journey
Mirko briefly outlined the PoliTO/EthosEnergy strategy over the last few years.
The starting point won't come as a surprise: the evidence that renewable energy sources – unavoidable for an energy transition – will continue to increase in use.
Renewable energy sources, however, are intrinsically prone to fluctuation. But that's where hydrogen-powered gas turbines come in.
Thanks to hydrogen production, gas turbines can be effective in making up for this fluctuation. They're flexible and well suited for frequent starts.
For PoliTO's research group, developing a complementary system to renewable energy sources involves two key aspects.
1. Fuel flexibility
Different fuel blends can be burned in gas turbines – going from natural gas right up to the maximum possible blend of hydrogen.
You can also vary the quality and composition of hydrogen, depending on the hydrogen production process. Eventually, fuel flexibility will allow for the use of biogas.
2. Retrofitting
A key enabler for the implementation of gas turbine–hydrogen technology will be the retrofitting of existing gas turbines.
With small modifications expected to be made to existing burners, Mirko sees this as the trigger that can stimulate the development of new production and distribution facilities.
And in time, increased on-field experience and detailed measuring of the performance of hydrogen-powered turbines will enable further developments to be made.
Putting retrofitted burners to the test
To give those attending the roundtable an idea of the sort of benefits that can be expected, Mirko talked through a case study.
PoliTO and EthosEnergy have been testing the burner operation of two machines: the TG20 and the FR6 B. The two burners were tested using different hydrogen–carbon fuel compositions:
● Baseline natural gas
● 15% hydrogen volume
● 25% hydrogen volume
● 50% hydrogen volume
The results for the FR6B aren't yet available but the results for the TG20 are highly encouraging.
As the ratio of hydrogen to carbon increased, CO2 emissions reduced. With a 15% hydrogen volume, there was an 8% reduction in carbon emissions. That jumped to a 28% reduction with the higher hydrogen content (50% volume).
It's still too soon to tell whether this retrofitting will ultimately be successful. Thermomechanical stresses and some of the measures for NOx control remain under investigation, but the signs are that as the volume of hydrogen increases, the impact of these two issues lessens.
Again, that's very encouraging.
One of many fruitful partnerships
The research being carried out by PoliTO and EthosEnergy is just one fruitful partnership working on hydrogen energy.
But the more we have universities, hydrogen companies, and governments sharing their expertise, the better.
So why not join the discussion?
Our hydrogen journey
This year we hosted our second "Our Hydrogen Future" roundtable event to promote the sharing of ideas, collaboration, and partnership in meeting EU 2030 emissions targets.
The presentations and panel discussions included industry partners sharing their hydrogen journey and how we can collaborate and form a community to achieve this common goal.
Read what our presenters had to say.