Powering the Global Energy Transition with Hydrogen Technology
Date

November 10, 2022

Category

News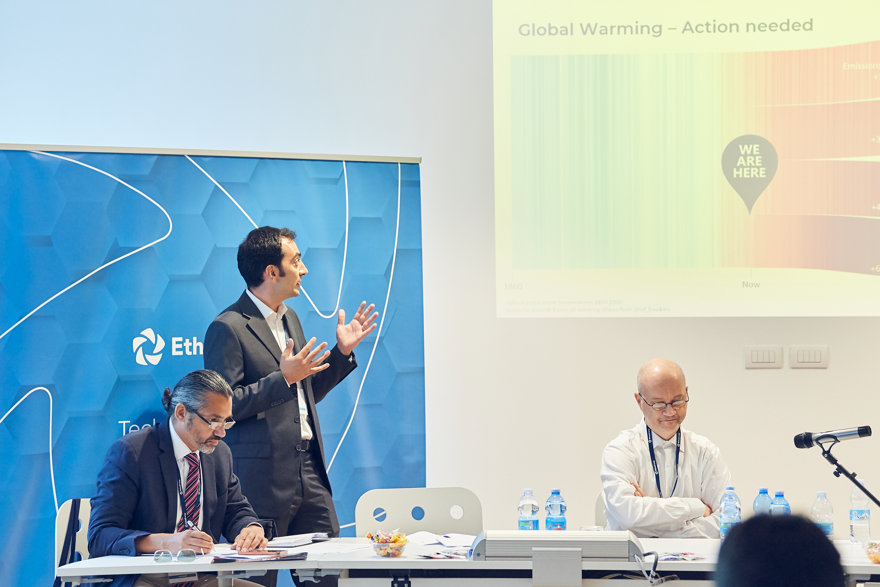 Getting Ready for COP27 and Getting Ahead of the Energy Transition
COP27 is under way. At EthosEnergy, we believe it's crucial all companies start transforming low-carbon hydrogen ambition into tangible action.  
But making hydrogen viable requires investment, partnerships, and commitment. 
That's why we recently partnered with Reuters Events to sponsor a webinar on "Hydrogen Technology to Power the Global Energy Transition". 
Read on for the highlights.  
Hydrogen's increasingly crucial role in the energy transition 
We began with a talk from Fabrizio Fabbri, Executive Vice President, EthosEnergy. Here's a short summary of the key points Fabrizio made. 
Navigating the energy transition in a challenging market
Over the past year we've faced a number of challenges: 
We continue to battle with the aftermath of the COVID-19 pandemic

 

Supply chains have been disrupted and will likely remain under constant threat of disruption over the next decade

 

Climate change has taken a concerning turn with a series of natural disasters and never-seen-before events

 

The cost of living and energy prices are skyrocketing

 

And the Russian invasion of Ukraine has resulted in Europe's fastest-growing refugee crisis since World War II

 
Russia's invasion has also had a far-reaching impact on the global energy system, disrupting supply and demand patterns, and fracturing long-standing trade relationships. It threatens to derail the world's efforts to reduce greenhouse gas emissions. 
But the war has given birth to fresh impetus for joint action to free Europe from fossil fuel dependency. And to accelerate the move to more affordable, secure, and sustainable energy. 
Meeting that challenge will require the collaboration of us all. 
Exploring hydrogen's future
Fabrizio believes hydrogen will play a leading role in future energy demand. Aside from decarbonization, hydrogen energy will help Europe reduce its reliance on fossil fuel imports. And it will compensate for fluctuations in renewable energy supply.  
According to current projections, global demand for hydrogen will grow from 70 million to 750 million tonnes by 2050. 
But there are challenges around the transportation and storage of hydrogen. Challenges that the companies participating in our webinar are all looking to address. 
The changing role of hydrogen
By 2035, annual investments in energy supply and production are expected to reach up to $1.6 trillion.  
But it's a journey; we won't see a switch overnight. For many years, fossil fuels and hydrogen will need to coexist. So today we need to be developing solutions for tomorrow. 
A problem for many operators is knowing where to invest as this is a sector that will be far more mature in 5–10 years. That's why at EthosEnergy we look to help our customers reduce CapEx by using existing assets as much as possible. 
We're also working with our partners to build a culture of knowledge around hydrogen technology. We host an annual Our Hydrogen Future roundtable – collaborating with governments, universities, and hydrogen companies. 
Panel discussion 
Fabrizio's presentation was followed by a panel discussion, moderated by Luke Brett, Hydrogen Lead, Reuters Events.  
The panelists were:  
Valentina Depetri, Principal Technology Process Engineer,

Wood

 

Wiveka Elion, General Manager – Import and Export,

Shell

 

Massimo Valsania, Vice President Engineering,

EthosEnergy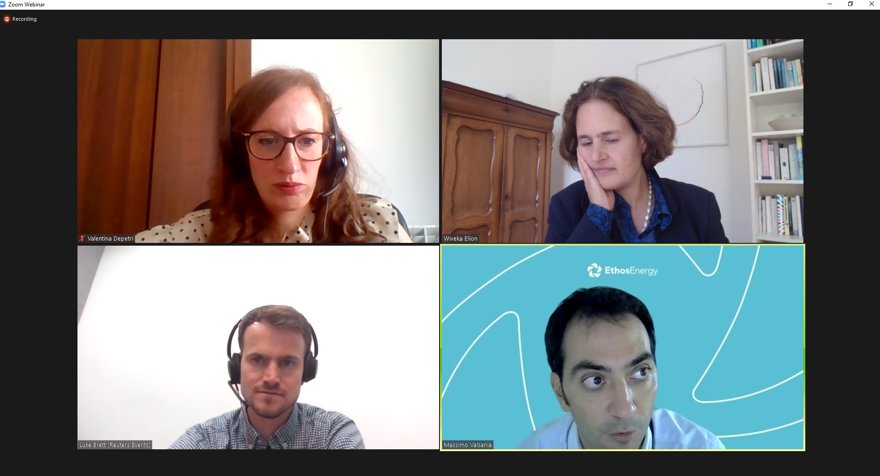 They explored a number of themes.  
Why collaboration on technology is essential
All three panelists agreed that forging strong partnerships to collaborate on technology is essential. No single company or government can achieve its net zero goals on its own. 
As Massimo said, "we cannot achieve our goal for the next 10, 20 or 30 years without really strong relationships – without working as a team. Because it's not a goal of a single person or a single company. We seek something that's for all of us." 
Investing in skills and training
Massimo also spoke about the work being done by Hydrogen Europe's Skills Working Group, of which he is Co-Chair. Bringing together the perspectives of industry and academics, the group's aim is to avoid a mismatch between the skills needed in the hydrogen sector and the availability of workers from more traditional industries.  
Any industry looking to scale up needs investment in its workforce to keep pace with its growth rate. Hydrogen technology is no exception. 
How traditional technology is evolving
Valentina spoke about how steam methane reforming – a technology traditionally based on fossil feedstocks – is evolving as part of the energy transition. 
Steam methane reforming accounts for 95% of the world's hydrogen production. But for every tonne of hydrogen produced, around 10–12 tonnes of CO2 are emitted. So Wood is working to improve this traditional technology with two different pathways: its Blue SMR and Blue SMR+ schemes.  
Both solutions use an integrated pre-combustion carbon capture and storage system. They don't suffer from the main drawbacks associated with a post-combustion system and can reduce CO2 emissions by up to 95%.
Tackling the hydrogen transportation challenge
Hydrogen is a tricky molecule to move efficiently over long distances. Wiveka shared her thoughts on how this could be done on a large scale. 
Shipping hydrogen as a high-pressure gas could be problematic. You would need a lot of steel. But Shell is developing two technologies that are more promising. 
Liquid hydrogen - Earlier this year, a joint venture saw the world's first liquid hydrogen ship – HySTRA's Suiso Frontier – sail from Japan to Australia. Shell was the operator. HySTRA's ship was around 1,200 m3 in volume. To scale that up, you would probably need a factor of 14 to make it economic. The jury is still out on how quickly that can be done and also on how cost-effective it will be in the short term.  
Using ammonia as a carrier - For ammonia, there's the issue of decomposition. But a major plus point is that the ammonia trade already exists with industry players experienced in handling it. Wiveka, however, sounded a note of caution. "We have to be aware it's a commodity within a small core group of industrial players that know how to handle it safely." Ammonia is highly toxic and Wiveka worries if individuals were to use it to fuel their cars or leisure boats, that could lead to very nasty incidents. 
These are quite challenging technologies, which is why Shell is developing them in parallel. But without a crystal ball, Wiveka isn't able to say which one will prove more successful. 
Hydrogen's future in the energy transition
The session closed with our panelists sharing their thoughts on where hydrogen can realistically get to in the coming years as part of the energy transition. 
For Wiveka, it's all about creating an energy system that's as resilient and flexible as we would like. "Everybody wants to turn on their light when they need it and not have to wait for the sun to shine or the wind to blow." With the hydrogen economy, we have a way to address that major challenge. 
Valentina spoke about expanding blue hydrogen production on a large scale. She doesn't see any barriers at a technological level. But the cost of production is a challenge. It costs 1.5 to 7 times more than grey hydrogen (produced from fossil fuels).  
"Someone has to pay these costs of production. But the challenge is the lack of clear incentives, policy regulation, and policy tools to cover the gap inside the market." 
For Massimo, the key is finding a compromise;
Become a hydrogen partner
As Fabrizio said, for the past two years EthosEnergy has hosted an annual roundtable, promoting collaboration and partnership between hydrogen companies, governments, and academics. 
Why not join the discussion?