Specialist weld repair of a D11 L-0 turbine blade
Sharp eye averts sharp rise in production loss
Goals

Sectors
Asset

Location

Texas, US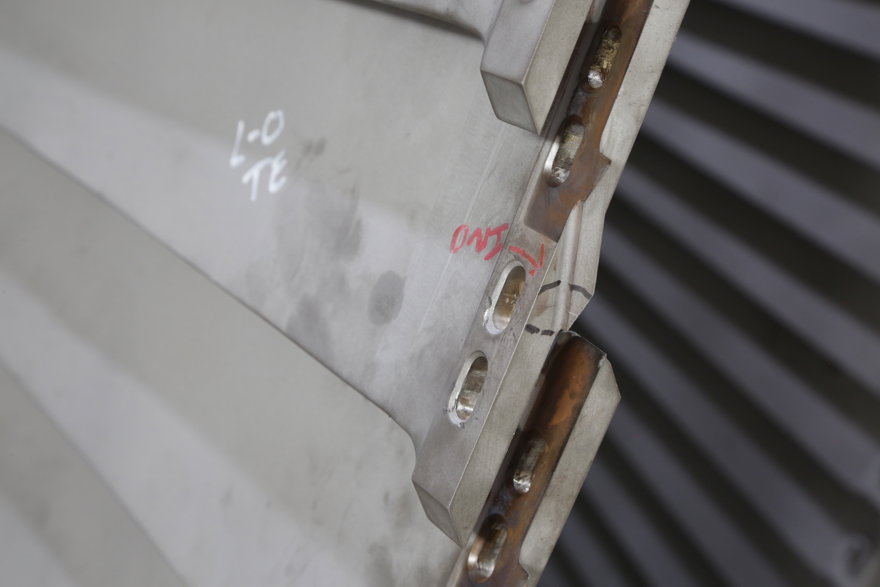 Specialist weld repair of a D11 L-0 turbine blade
View our video case study
The Challenge
Eagle eye spots cause for concern
In engineering, as in life, it's often the small matters you need to be most concerned about. The tiny things with the potential to cause the most damage.
Which is why, when our client – a municipal combined-cycle power plant – asked us to carry out a major outage on its steam turbine, we first went over it with a fine-tooth comb.
At EthosEnergy, we make a point of sending qualified engineers out on site for discovery. It's one of the things that differentiates us from other ISPs and OEMs.
We want to make sure we identify each and every potential risk. And ensure our clients receive top-quality work.
If there was ever an occasion that demonstrated how beneficial this considered approach can be for a client, it was this: when our steam turbine application engineer detected a small crack – measuring just three-eighths of an inch – on the L-0 blade tip of the low-pressure rotor.
Considering the size of the rotor – which, at over 30 ft long and weighing around 90,000 lbs, is easily one of the largest rotors in the world – this was a remarkable find.
But one that gave our client significant cause for concern.
The Solution
Sending for a specialist welder
The only viable source for replacing a row of blades was the OEM. But it would have cost around $2 million to do so, with a significant lead time. And reconditioning the blades would have still set the client back in the region of $1 million.
Was there a better solution? One that would prevent the LP rotor from supplanting the HP/IP rotor as the critical-path item for the major outage?
The engineers at our Houston facility believed that something could be done to refurbish the L-0 blade but that it would require specialist expertise. That's where our global reach and OneEthos approach really shone.
Knowing we had the requisite expertise in the UK, we sent photographs, drawings, and materials analysis to our specialist steam turbine repair center in Worcester, England. While it would be an involved process, our team concluded the blade could be repaired.
So one of our specialist UK-based welders traveled over to the US and carried out a weld repair.
The Impact
Weld repair proves crucial to staying on the critical path
Thanks to our engineer's eagle eye and our ability to weld-repair L-0 blades, we saved the customer a tremendous amount of money and kept the major outage on schedule.
Had the crack on the L-0 blade tip not been picked up, it would most likely have continued to propagate all the way to the rivet hole, leading to vibration issues or even catastrophic failure. With imbalance, there would have been a high risk of the unit crashing.
It's likely the turbine would have been out of operation for at least three weeks. But, potentially, it could have been down for as long as six months – at a production loss of around $750,000 a day.
On top of that, we saved the client the additional repair and capital expenditure costs.
This was an extraordinary and highly valuable identification by our application engineer. In addition, our team also spotted shroud lifting on the L-2 blades that was no more than around 40-thousandths of an inch.
Because the lifting was on the closing blades, which were made out of titanium, we were unable to carry out a weld repair. But by replacing two groups of blades, we effectively wound the lifecycle back to zero hours again on those two groups.
Yet further evidence that having an eagle eye on site makes all the difference.
Get in touch
Key points
Tiny crack identified on D11 L-0 blade tip could have resulted in a lengthy outage and production loss costing millions of dollars
One of our specialist welders traveled from the UK to repair the blade, saving the client hundreds of thousands of dollars in capital expenditure
Major outage kept on schedule